Requirements in Agricultural Scientists Recruitment Board (ASRB) Feb-2015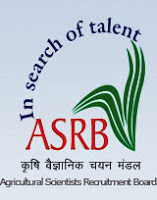 Agricultural Scientists Recruitment Board (ASRB)
New Delhi
Advt. No. 01/2015
ASRB invites applications from the desirous eligible candidates for direct recruitment to the following scientific senior level posts of the ICAR and its various field institutes :
Senior Research Management Position (SRMP) : 01 post

Research Management Position (RMP) : 26 posts

Project Coordinator : 06 posts

Head of Divisions (HoD/equivalent) : 23 posts

Principal Scientist : 08 posts

Senior Scientists/ Programme Coordinator : 07 posts
How to Apply : The closing date for receipt of filled in application at ASRB is 24/03/2015. Last date is 08/04/2015 for the candidate from abroad/remote areas.
Logon to : http://asrb.org.in/index.php?option=com_vacancy&Itemid=56 for more detailed information.