Requirement in Braithwaite & Co.Ltd Apr-2017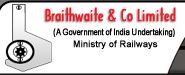 Braithwaite & Co.Ltd.
Kolkata
Invites applications from Indian Nationals for current jobs opening of:
Assistant Manager / Engineer – 30 (Metallurgy-02, Mechanical-15, Electrical-04, Industrial Safety-01, Materials Management-06, ERP (IT/ Electronics & Telecommunication/ Computer Science)-02) Posts

Senior Manager / Assistant Manager / Executive – 10 (Senior Manager (F&A)-01, AM (F&A)-01, Executive (F&A)-03, Executive (Personnel)-03, Executive (Legal)-01, Executive (Security)-01) Posts
How to Apply: Applications on plain paper in the Application format (Following details required mentioned below) with photograph and copies of all certificates of qualification and experience favouring the candidature and duly self attested may be made to Senior Manager (P,A,S), Braithwaite & Co.Ltd., 5, Hide Road, Kolkata-700043 on or before 29/04/2017. The postal cover envelope should be super scribed for the post applied for.
Application format to include:
1. Name
2. Date of Birth
3. Contact Address
4. Email ID/Mobile No
5. Qualification (Name of Exam / Name of Institution/Year of Passing/% of Marks).
6. Experience (Name of the Organization / Designation/ Period of work)
7. Achievements, if any.
8. Signature of the Candidate.
Logon to: http://www.braithwaiteindia.com/jobs.html for more detailed information.