Requirement in Cochin Shipyard Limited (CSL) Aug-2017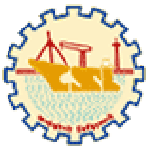 Cochin Shipyard Limited (CSL)
Invites online application from eligible Graduate/ Diploma holders in Engineering and Diploma holders in Commercial Practice, for undergoing one year Apprenticeship training under the Apprenticeship (Amendment) Act 1973.
Graduate Apprentices – 72 Posts, Pay: ₹ 8000/-, Training – 01 Year

Technician (Diploma) Apprentices – 100 Posts, Pay: ₹ 7000/-, Training – 01 Year
How to Apply: Eligible Candidates are first required to register in the web portal of NATS (National Apprenticeship Training Scheme). The candidates have to apply for the respective branch through the ID No./Registration No. SKLERC000007 for COCHIN SHIPYARD LIMITED. The last date for submission of online application is 31/08/2017.
Logon to: http://cochinshipyard.com/career/Notification%20for%20engagement%20of%20Apprentices%20under%20Apprenticeship(Amendment)%20Act%201973.pdf for more detailed information.
How to Apply: http://cochinshipyard.com/career/Procedure%20for%20Student%20Enrollment%20in.pdf