Requirement in Institute of Nano Science and Technology (INST) Sep-2017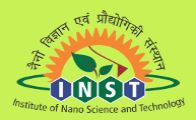 Institute of Nano Science and Technology (INST)
Mohali (Punjab State)
Invites applications from persons with excellent credentials, having innovative mind and an inner urge to deliver, for the post of Scientist 'F' and Scientist 'E' on direct recruitment basis.
Scientist 'F' – 02 (UR) Posts, Age: 50 Years, Pay: PB-4, ₹ 37,400-67,000 + GP ₹ 8,900

Scientist 'E' – 01 (UR) Post, Age: 45 Years, Pay: PB-4, ₹ 37,400-67,000 + GP ₹ 8,700
Application Fee: ₹ 500/- (non-refundable) shall be submitted by each candidate in the shape of RTGS/NEFT or by Demand Draft/Indian Postal Order drawn in favor of Institute of Nano Science and Technology, Mohali (payable either at Mohali or at Chandigarh) along with application in the prescribed form.
How to Apply: Application form, duly filled in, accompanied by a demand draft (DD) and self-attested photocopies of testimonials should be submitted to INST, Habitat Centre, Sector-64, Phase-X, Mohali-160062, Punjab on or before 10/10/2017. Separately, a soft copy of duly typed "SYNOPSIS" (in prescribed excel format) must be sent by 20/09/2017 by e-mail at instrectt2015@gmail.com. Separate application may be submitted for each post, if applying for more than one position, with requisite fee for each application. The envelope containing application must be superscribed as "Application for the Post of ______".
Logon to: http://www.inst.ac.in/ads%202017/Advertisement.pdf for more detailed information.
Application form @ http://www.inst.ac.in/ads%202017/Application_Form.pdf
Synopsis @ http://www.inst.ac.in/ads%202017/Synopsis.xls